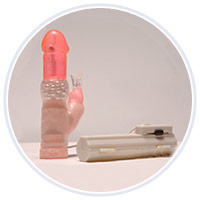 Our Rabbit Vibrator Will Make Her Purr..

The Rabbit Vibrator is an all time classic vibe. As seen on television, this wonderful and fun vibrator is loved by women around the world! The soft jelly like ears can really turn up the heat. Just turn up the power and these ears provide immense clitoral stimulation. The shaft provides a circulation motion and undulates to your body rhythms. The mid section contains white pearls which expand to create further stimulation. A great benefit is you can use all these features simultaneously! Used properly the Rabbit will take your orgasms to a new level.
The main soft jelly shaft of this vibrator is 7 inches long and about 1.25 inches in diameter. Uses 3 C batteries. We recommend using with Eros Lube for an exceptional experience.

Your Rabbit Vibrator will be shipped in a plain, unmarked container because your fun is your business.