360 Spinning Sex Swing
Compare at
$225.99
| You Save
$107.30
(48% OFF)
After Code: HOLIDAY
or 4 payments of

$29.67

with
Fully Adjustable Sex Swing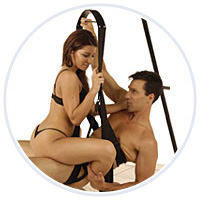 This fully adjustable 360 Spinning Sex Swing makes having sex in many unusual positions possible. Completely pre-assembled. One connection point for hanging. Supports back and butt (or waist and knees) with adjustable straps. Soft padded stirrups for feet, ankles, calves or thighs. Extra-wide nylon straps with self-tightening buckles. Torque support bar at top for added leverage. High-strength spring facilitates bouncing. Rotates easily. Can be easily detached (for storage) from its hanger eyelet with its spring-open hook.
Please consider the weight-bearing capability of your installation spot. The Swing is built strong and can hold up to 350lbs without spring. A variety of awesome sexual positions can be enjoyed with The Trinity Sex Swing. Comes with a 1 year warranty.
Check out this handy positions chart, for the swing:
Note: Stand sold separately. For more versatility check out the Sex swing stand.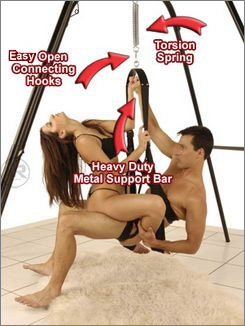 High-Strength self-threading eyelet
Heavy duty link chain
Easy spring open connecting hooks
Soft padded stirrups for feet, calves or thighs
Special rotating eyelet bolt
High-Strength steel spring
Padded back and butt supports are fully adjustable
Fully adjustable buckles with extra-wide nylon straps